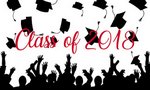 Congratulations!
May 19, 2018
**Graduation Exercises - Saturday, May 19, 2018 at 9:00 a.m.
Stewart County High School School Old Gymnasium (Green Grove Road)

Girls Attire: Graduation cap & gowns: black dress, black shoes, pearl/small earrings

Boys Attire: Graduation cap & gowns: white collar shirt, black tie, black pants, black shoes
-Arrival time 8:15 a.m.


**Practice Dates - At the Old SCHS
Tuesday, May 8th - 9:30 a.m.

Wednesday, May 9th - 9:30 a.m.

Thursday, May 17th - 9:30 a.m.

Friday, May 18th - 9:30 a.m.


Please Note:
During the presentation of seniors/awarding of diploma we asking that you hold your applause until the last graduate on each row has received his/her diploma.

Balloons will not be allowed in the gymnasium during the graduation ceremony.
For more information please contact Ms. Billie Mallory, Graduation Coordinator at (229) 942-2300.